Get ready to explore the smartphone game because Samsung is back with its latest iteration of the beloved Z Flip series. The Z Flip 5 and Z Flip 4 have hit the tech scene and the battle of the flips. Wondering what sets these two folding wonders apart? Let's dive in and explore the key differences that make these phones unique.
The newest Galaxy Z Flip 5 will join the legendary Samsung folding smartphone line. Galaxy Z Flip5 aims to expand the potential of a minor portable gadget by fusing style innovation and usefulness into an elegant foldable design.
The future of smartphones is foldable. Folding and flipping phones are still relatively young in market share. They are unquestionably becoming more widespread in the smartphone industry. Samsung is now developing its fifth generation of foldable phones. The most advanced generation can be claimed to have better advancements than any other company creating foldable phones.
Z Fold series is incredible with its widescreen. The Samsung Galaxy Z Flip 5's clamshell flip-fold is much more practical. Many people will likely use folding phones due to widescreen and the reasonable cost.
Step into the exciting world of Samsung's Z Flip series by exploring the comparison of the Galaxy Z Flip 5 to its Galaxy Z Flip 4 predecessor. Examine the most recent updates that have helped it stand out in all the right ways compared to other phones.
WHICH HAS THE BETTER BATTERY LIFE, FLIP 5 OR FLIP 4?
Battery Battle: Flip 5 vs. Flip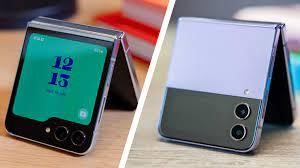 The long-lasting 3,700mAh batteries in the Galaxy Z Flip 5 and Z Flip 4 are made to resist the demands of the entire day easily. The intelligent Dual Battery regulates the power based on your usage patterns to ensure that your phone has power when needed.
You can feel confident knowing that you can maintain control for a more extended period while creating a vlog, working from home, or unwinding with a Netflix box set. Super-fast charging will get it back up to 50% in 30 minutes.
Although we highlighted that the Snapdragon 8 Gen 2 CPU offers advancements that make upgrading unnecessary. There is no denying that it has a benefit over the Snapdragon 8 Gen 1 processor. So, we are giving this round to the Galaxy Z Flip 5.
WHICH HAS THE BETTER CAMERA, FLIP 5 OR FLIP 4?
SAMSUNG FLIP 4 CAMERA RESOLUTION
SAMSUNG FLIP 5 CAMERA RESOLUTION
Three fantastic Galaxy Z Flip 5 and Z Flip 4 cameras allow you to consistently take pictures from the most incredible angles. They have back cameras that are 12MP Ultra-Wide and 12MP Wide-angle. The front camera is 10MP for Instagram-ready selfies. But why only use the front camera while taking selfies?
You can now take better-looking selfies by using the primary rear camera as a selfie camera with the Galaxy Z Flip5. The primary 12MP lens allows more light and lessens lens flare so you can look your best regardless of the lighting conditions.
Samsung has updated the image signal processor. Z Flip 5 improved glass. The Z Flip 4's camera is good. It has the same configuration as the Z Flip 3 and must be updated to compete with the top camera phones on the market.
The Z Flip 5 camera is equally as good as the one on its predecessor. We have only a few complaints. We can see what we mean by comparing the Galaxy Z Flip 5 and Flip 4 cameras. So, it's undoubtedly a tie between Flip 5 and Flip 4 cameras.
WHICH HAS THE BETTER DESIGN, FLIP 5 OR FLIP 4?
There are design and durability improvements in Galaxy Z Flip 5. It boasts a redesigned zero-gap hinge and a thinner overall design compared to the Galaxy Z Flip4. The primary 6.7″ screen features narrower bezels. This fantastic feature enhances your interaction with your favorite content. The expanded 3.4″ Flex Window is 278% larger than the 1.9″ front display of the Galaxy Z Flip4, making it stand out.
Numerous personalization choices are available on the Galaxy Z Flip5. You can design your unique style. Thanks to over a dozen widgets, you can check the weather, pay for groceries, and make calls without ever opening the phone. The compact design of the Galaxy Z Flip 5 gives you the best of both worlds – it's trim when you want it to be discreet and big when you want it to perform.
The Galaxy Z Flip5 is also incredibly durable. It is constructed from improved Gorilla Glass Victus 2. This feature is even more resilient than the glass used in the Flip 4. It is made to resist the everyday challenges of an active life when combined with a highly durable Armour Aluminium frame. What sets the Galaxy Z Flip 5 apart from its predecessor are the features that make it life-proof.
PRICE AND STORAGE OF GALAXY FLIP 5 VS. FLIP 4
The Samsung Galaxy Z Flip 5 is currently on sale with custom prices beginning at $1,000. You should be able to find it everywhere that sells reliable cell phones because various sellers and carriers will offer it.
Although the Samsung Galaxy Z Flip 4 is presently $1,000. You should only have to spend part of the amount. Samsung and other sellers frequently run sales. It is available from various stores and is suitable for most providers like its predecessor. The Galaxy Z Flip 5 has 256GB of base storage but Z Flip 4 only has 128GB.
SOFTWARE OF GALAXY Z FLIP 5 VS. FLIP 4
The Samsung OneUI interface on the Galaxy Z Flip 5 doesn't offer a great deal at first glance. The Flip 4's Flex Modes are all still available and offer optimum layouts anytime the phones are folded in half. Some of them are more beneficial than others. When we use the camera app in Flex Mode, it gives us the impression that we are holding a camcorder.
The wider Flex Window on the Z Flip 5 adds more capability. This is the most significant improvement to the experience. The Z Flip 4's smaller cover screen lets users access widgets and notifications, but it needs to catch up to the Z Flip 5's enhanced experience.
We like to use the Flex Window to run some specialized programs in addition to the widgets being more interactive. The larger exterior display makes taking selfies and self-portrait videos even more straightforward.
By starting from their split-screen views and then launching a floating app, both phones are likewise well-equipped to handle multitasking. This enables you to run up to three apps at once.
CONCLUSION
The Samsung Galaxy Z Flip 5 has won but it's a closer victory than anticipated. Samsung has mostly stayed the same other than modifying the formula it has been using for a few years besides adding a larger cover screen and some new internals.
If it is evident that the Z Flip 5 is a superior phone, the recommendation is categorical "no" when replacing your Samsung Galaxy Z Flip 4 with the new model.
Z Flip 4 is a captivating clash of innovation and features. The Z Flip 5 has showcased notable improvements in design, durability, and storage capacity, making it a compelling choice for those seeking cutting-edge technology.
Feel free to make the purchase If you have the budget and the desire. It's essential to keep in mind that you're primarily getting a slightly faster processor and a larger external screen.
If you can wait, consider holding onto your current phone for at least another year and explore the possibility of upgrading to the Samsung Galaxy Z Flip 6 or 7 in the future. The Z Flip 4 continues to provide a comparable experience to its elder sibling, the Flip 5.
For any kind of support in Brisbane, Sydney or Australia about Samsung Z Flip Repairs you can visit ScreenFixed for Z Flip repair service in Brisbane, Sydney, Australia with two years parts warranty and best service that you will not easily forget.