Augmented reality is here to enhance our experiences every day! Be it in retail, IT, gaming, healthcare, or any other industry.
And Retail is one of the industries that is most influenced by integrating AR. As per statistics, AR in the retail market grew at a CAGR of 20% between 2022 and 2028. It is expected to reach $673.2 million by 2028.
Evidently, AR is innovating the retail industry in leaps and bounds! But, how does it help innovate your end-user's shopping experience?
We will learn more about that through this blog! Check out the various ways AR can help elevate your shopping app's UX. It will also help you connect with an AR app development company and discuss the various ways you can optimize your retail app experience.
What is Augmented Reality? 
Augmented Reality improves the user's perception of reality by combining the real world with virtual objects, graphics, and information. All of it is accessible through devices such as smartphones, tablets, computers, headsets, smart glasses, etc.
Here, reality is presented as a backdrop while the virtual information and objects are superimposed on top of that.
The concept of AR is used to elevate user experience in multiple sectors, such as
Education
Fintech
Real estate
IT
Digital media
Interior design
Retail
Gaming and entertainment, etc.
Are you wondering where AR is implemented?
Well, it's everywhere! From the games you play on your smartphone to the social media you use on a daily basis, AR is used in all places.
Have you used Snapchat or Instagram filters? That's another example of AR! Or, the viral game Pokemon Go? That was also AR!
In retail, you may have seen apps like Lenskart and Flipkart use AR to better explain their products to users. Augmented reality developers work tooth and nail to ensure you have the best experience with the app.
Here, let's look at some of the notable benefits of implementing AR in retail commerce.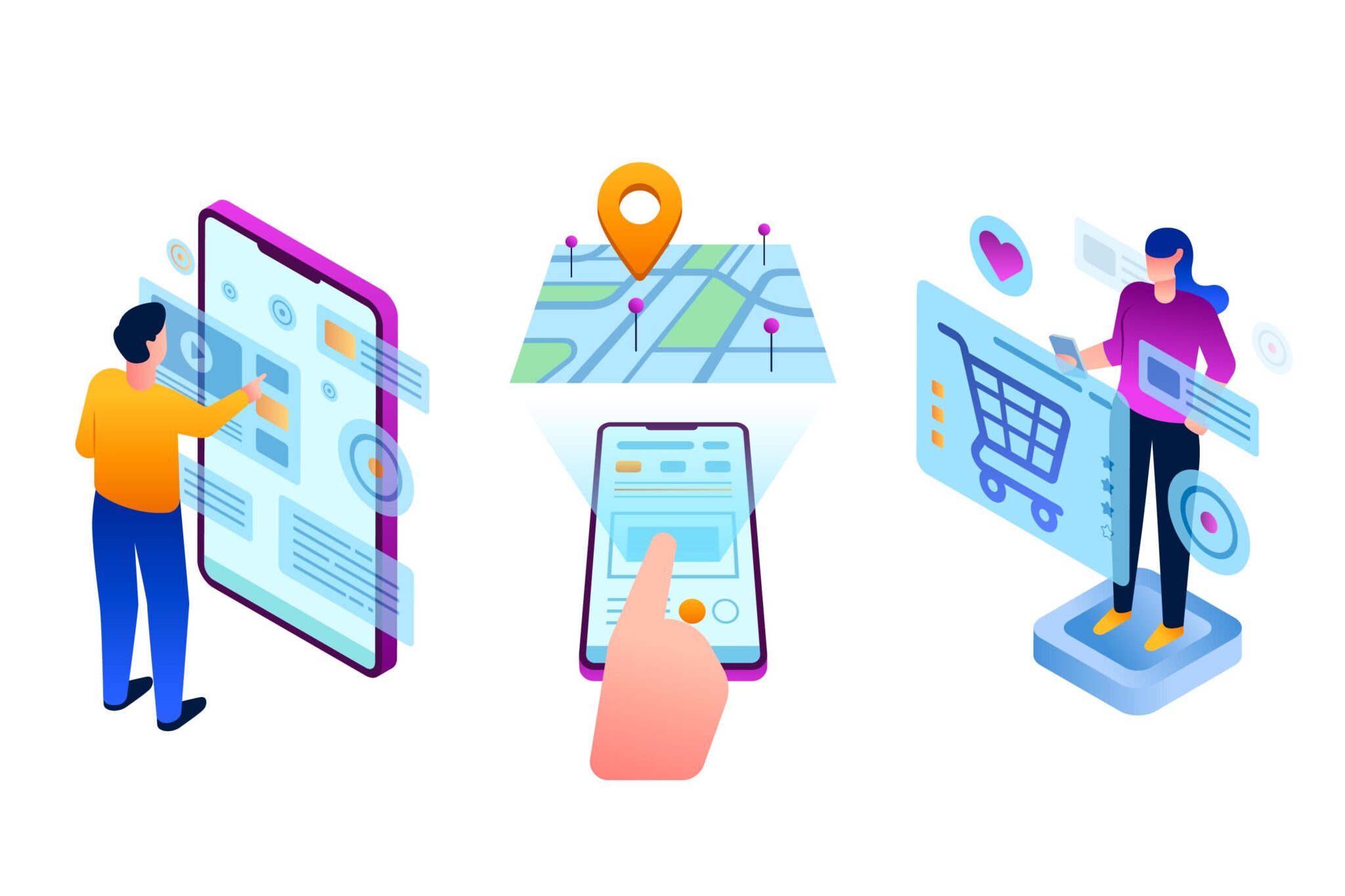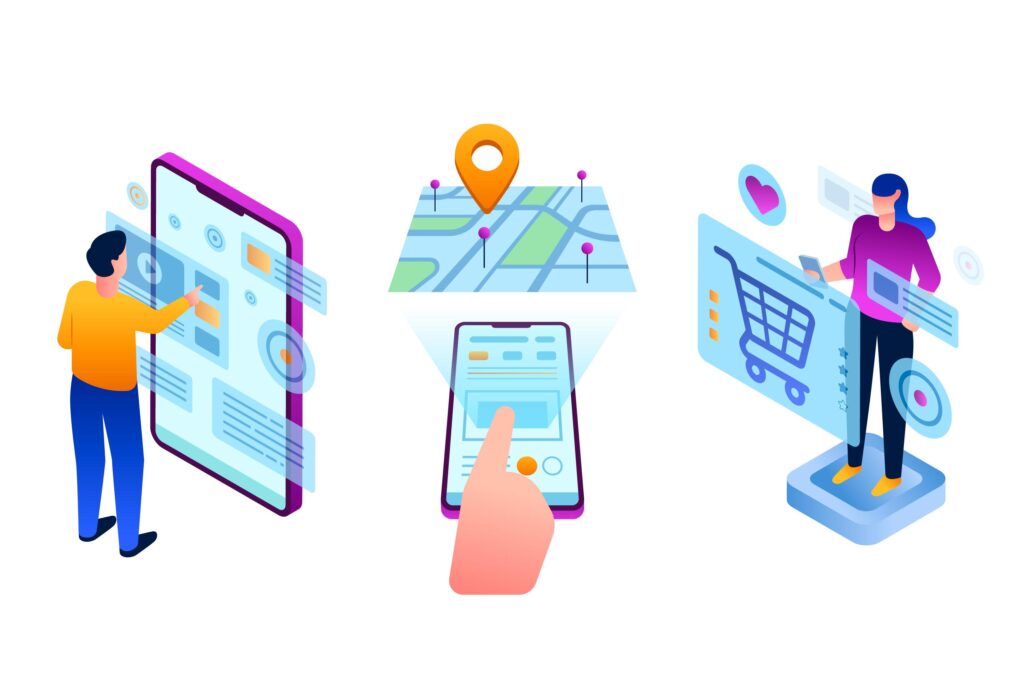 Benefits of AR Applications in Retail
Online shopping has spoilt us in many ways than one. We are tempted to shop anywhere, anytime, and sometimes just about anything.
We don't have to hassle through the aisle of clothes or wait in a queue to pay the bill. Everything is attainable in a few clicks and not to mention the doorstep delivery.
Yet, how often do you find yourself heading to a retail store nearby?
Well, the reason behind this is we miss the personal touch in online shopping. It's just pictures and descriptions to us and the product delivered is entirely different than how we thought it would be.
It does not just inconvenience your customers but you also have to face higher returns.
What if we told you, AR can help you in this situation? How? Let's look at that!
Improve product visualization with AR
As a retail eCommerce store, your goal is to better inform your audience about the products. Sure, you have high-resolution images, videos, 3D images, and precise descriptions, but you can do more!
Suppose, you are selling Furniture. How cool would it be to show how that piece of furniture actually looks in their room?
Similarly, if you are selling makeup (say lipstick), you can use AR to let your audience try out that shade virtually and make the right decision.
If anything, you will be portraying your products much better than before!
Create personalized shopping experiences
Despite being present for over a decade now, online shopping yet doesn't compare to offline shopping in terms of personalization. But, with useful data about your audience's preferences and AR, you can create personalized shopping experiences for your customers.
For example, virtual try-ons! Your customer liked a dress in your store but wasn't sure how it would look on them. You can still have a chance to convince them with virtual try-ons.
You can also let them change the color of the product or customize it as per their taste. AR-guided virtual shopping assistants and showing contextual information are some other ways you can personalize your shopper's experience.
Engage better with customers
Nowadays, most retail eCommerce stores struggle to retain customers in their stores. Why? Because they don't have enough attractions to keep people engaged and entertained.
With technologies like AR, you can add plenty of interesting elements to your store and engage better with customers. You are more likely to retain customers and have better chances of conversion.
You liked a product, but you see the color you wanted just went out of stock. You have another color variant as an option though. But, you are unsure if that will look good on you.
What will you do in that case?
Well, most customers won't proceed with the purchase.
Now imagine, you can try a virtual try-on for that product. You actually liked the shade on you and thought of giving it a try. And in no time, you see yourself purchasing the very product.
Your customers are human too and they think the same way! So, it helps you attain better conversion rates.
However, strategize your features well and implement those when you hire AR app developers.
Brand innovation and differentiation
Are your competitors using AR already?
If they are and you are not, you are probably missing out on a lot of things. And if they aren't yet, it is time to get a leg up in the competition.
By implementing AR appropriately, you will elevate your shopper's experience. And not just that, but you will leave a better impression and create a unique identity for your brand. People are likely to take your brand as tech-forward and adaptable.
by Enabling customers to try things virtually, you don't have to spend huge amounts of money on showrooms and store displays. Besides, your customers are more certain about the products they purchase and you can reduce the rate of returns and exchange significantly.
These are a few of the notable benefits of AR in retail. And with the help of a leading augmented reality development company, you are likely to innovate more in this matter.
You can develop exclusive new features that are unique to your brand and attract more customers, improve conversion rates, and so on. The role of AR in eCommerce is significant and you can create even better experiences going forward.Author Bio:- Maulik Shah is the CEO of BiztechCS, a development company. He often takes the front seat in the company's development projects, because he enjoys solving problems through technology. When it comes to writing for any blog, his contribution is priceless. Maulik ensures that his interaction with development is frequent enough, and his industry knowledge is ever-evolving, so that he can share it. Despite his packed days, Maulik's door is always open and he is generous with sharing this knowledge and experience.