Yellowstone, an American neo-Western TV series created by renowned filmmakers John Linson and Taylor Sheridan, aired on June 20, 2018, on the Paramount network. The show features a legendary cast including Kevin Costner, Kelly Reilly, Cole Kenneth Hauser, Wes Bentley, and Luke Grimes. The tricky storyline and brilliant acting of every character have contributed to the series' success. However, one cannot deny the significant role of the apparel in making this drama a hit.
One character, in particular, has captured the hearts of fans with his charismatic personality and glamorous-boy style – Rip Wheeler, played by Cole Hauser. His spell-bound acting and well-crafted wardrobe in the show have won the hearts of millions of viewers worldwide. Fans love the way he dresses. If you're one of them and want to dress up like Rip, then the Rip Wheeler dress-up guide from Yellowstone TV Series will help you to look like Rip.
What Makes Yellowstone's Rip Wheeler Outfits So Iconic?
What makes an outfit iconic or a fashion piece? Obviously- its uniqueness and distinct style that set it apart from other outfits. Similarly, Yellowstone's Rip Wheeler outfits are so iconic because of their unique designs, classy style, and timeless appeal. Whether you see Rip Wheeler Jackets, button-up shirts, denim jeans, cowboy boots, cowboy hats, sunglasses, or his silver belt buckle, every piece belonging to him is a masterpiece. The layout and color of Rip's apparel make it the perfect choice for any casual, formal, or semi-formal event.
How Yellowstone's Tough-Guy Look is Influencing Men's Fashion?
Attention all Rip Wheeler fans! Are you looking to nail the authentic western-style look of your favorite Yellowstone character? Well, you're in luck because we're here to help! We've got you covered with all the tips and tricks to replicate Rip's iconic outfits whether for a casual look or a more formal outfit for a special occasion.
Here are some brilliant outfit ideas to help you dress up like your favorite character, Rip Wheeler.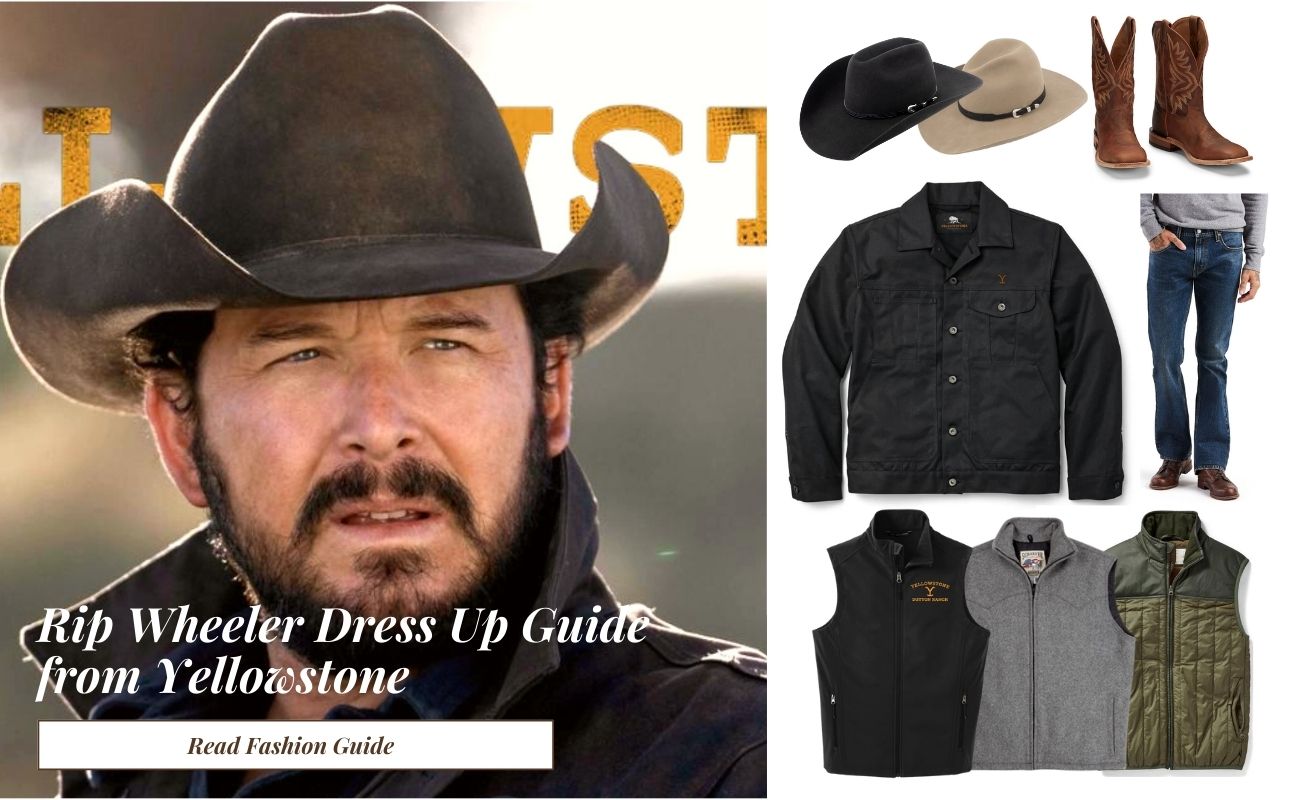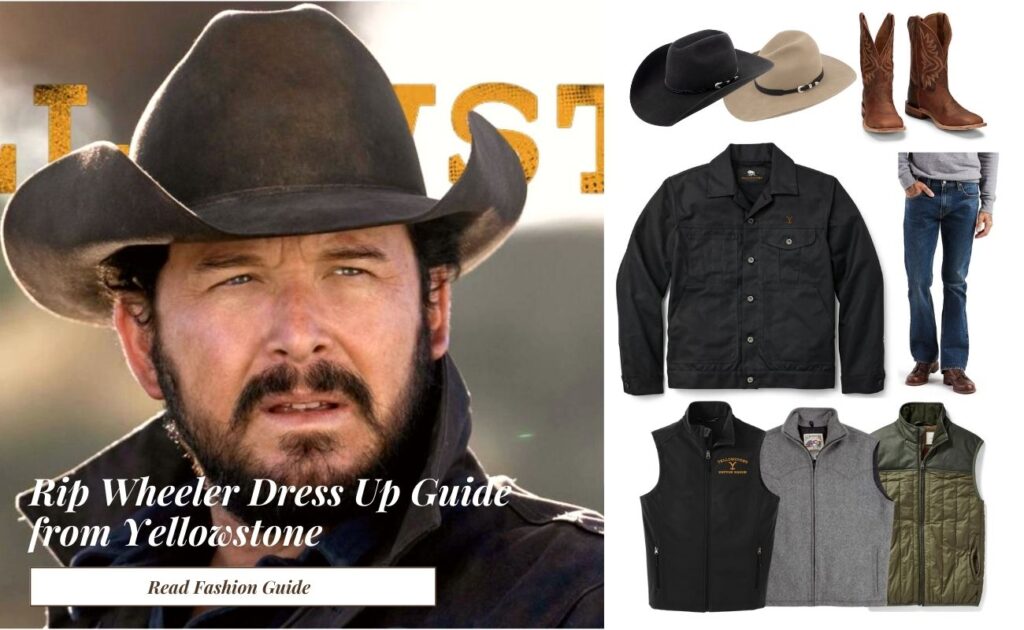 Revamp Your Wardrobe with Yellowstone's Rip Wheeler Iconic Black Jacket:
Discover the power of classic style with the Rip Wheeler Black Jacket. This unbeatable iconic piece is made with super soft, high-quality genuine cotton which provides ultimate comfort, and pleasure. The premium viscous lining inside adds to the comfort factor. The front buttoned closure and simple yet elegant collar design make this jacket stand out from the rest. And with full sleeves and buttoned cuffs, you're sure to feel stylish and comfortable in any season. This black cotton jacket is perfect for any occasion, be it casual or formal. Additionally, some Yellowstone jackets feature the logo of the national park above the pocket, adding more style and charm to the outfit. Pair it with a black buttoned shirt, blue jeans, a black hat, and brown leather shoes to look just like Rip!
Discover the Charm of Rip Wheeler Black Button-Up Shirt:
Rip's black button-up shirt adds a touch of charm to your style. The white buttoned cuffs of this shirt with two button pockets on the chest add a formal touch that looks great. This cotton shirt not only offers a comfortable fit but also ensures durability, making it a great addition to your wardrobe. Pair it with the Yellowstone Jacket, brown cowboy boots, and jeans, and you will turn heads wherever you go.
Step up Your Style with Rip Wheeler's Denim Jeans:
No tough-boy outfit is complete without durable denim jeans, and Rip Wheeler's fashion statements are always on point. Classic blue jeans are the best choice to match the Yellowstone style. Alternative shirts pair up with jeans to give you a Rip Wheeler-inspired look!
Make a Statement with the Unstoppable Style of Rip Wheeler's Blue Denim Shirt:
Rip Wheeler has brought back the denim shirt trend, and it's a stylish addition to your wardrobe. Get ready to look effortlessly cool like Rip by pairing the denim shirt with Rip Jacket, blue jeans, black hat, and brown leather boots. So, don't miss out on this timeless fashion trend!
Dominate the Wild West with Rip Wheeler's Vest:
One of his iconic pieces of Rip apparel is the Rip Wheeler's Vest he wore in the show, which is made with a strong cotton outer layer and a comfortable inner viscose lining for maximum comfort and warmth. It comes in a stylish black and green color and has two spacious side pockets to hold all your essentials. The rib-knitted collar and front zipper closure make this vest even more stylish and attractive. When you wear this vest, you'll feel like you're Rip Wheeler himself, and you can also wear it casually and look effortlessly fashionable.
Embrace Your Inner Cowboy with Rip Wheeler's Cowboy Hat, Cowboy Boots, and Silver Belt Buckle:
Looking to achieve Rip Wheeler's classic cowboy look? Well, you need a few essential items. A sleek Rip hat and cowboy boots are not to give you only a stylish look but also super comfy for all your outdoor activities. And let's not forget about the silver belt buckle. These minor details may seem small, but they complete your wardrobe and impress everyone with your classic Western style!
Conclusion:
Rip Wheeler's fashion sense in the Yellowstone TV series has become a trendsetter, with millions of fans worldwide inspired by his wardrobe choices. His clothing items, such as his classic black cotton and leather jackets, black button-up shirt, denim jeans, blue denim shirt, Rip vest, cowboy hat, cowboy boots, and silver belt buckle, exude a sense of uniqueness, and sophistication. If you're looking for a style that's perfect for any occasion, whether casual or formal, Rip Wheeler's wardrobe is the perfect source of inspiration. Are you a big fan of Yellowstone Jackets? Or want to elevate your style with a classic cool cowboy hat?  Look no further than Yellowstone Apparels! The Yellowstone Rip collection is sure to make you stand out from the crowd!