When environmental aggressors influence your body's ability to clutch onto moisture, it is natural to experience discomfort in the skin. Thus, a body lotion is one of a few inexpensive ways to level up their body care routine. From working on scaly skin textures to soothing the roughness in the skin, it is quite pro at its job. Owing to its skin-pleasing benefits, it is considered an integral part of your skincare regimen.
Which winter lotion is right for you?
Choosing body lotion according to your skin type might be one tough task. However, it is necessary to apply the formulation that suits your skin type, not the one that may irritate your skin. It is critical to note that one-size-fits-all things don't apply in skincare. So, let's find out which type of body moisturizer might go well on your skin type.
For normal skin, opting for a creamy, super-hydrating lotion is best. Even though normal skin has a better tolerance towards chemicals than other skin types, you should always opt for a gentle, toxin-free lotion for the best care.
Dry skin tends to get troubled with irritation, itchiness, and flakiness. Thus, a thick, nourishing lotion with natural humectants is advised. In addition, make sure to get a creamy formula to relieve irritation and discomfort.
Despite popular belief, oily skin craves hydration, especially during seasonal changes. If you have oily skin, go for lightweight and non-comedogenic lotions. In addition, it is better to .avoid heavy formulations that can block pores.
Sensitive skin is vulnerable to external aggressors and harsh toxins present in beauty products. So, ensure to stay away from fragranced and harsh chemical-enriched lotion. Besides, a patch test is advised to ensure your skin's comfort.
Why should you use body lotion?
One of the benefits of applying body moisturizer is it deeply hydrates the skin. Body lotions are viewed as a hydrating product formulated with emollients, humectants, and healing oils. Thus, it penetrates deeply into your skin to provide much-needed hydration. As a hydrating lotion, it seals in moisture, strengthens the barrier, and keeps it soft and supple for long hours.
Relieve rough, scaly skin
Like your face, your body gets cracked and chapped as well. This cracked skin often takes form into dry and rough patches, which may get stubborn with time if not treated early. The best way to defy such woes is to hydrate your skin regularly to avoid the formation of such patches. Choosing a well-formulated body moisturizer tackles the rough patches, moistens the excessive dryness, and delivers long-lasting moisturization.
The skin on the heels is one of the most problematic areas that remain dry and irritated all year round. Lack of moisturization can take a toll on the heels, worsening the condition. Thus, moisturizing the heels daily before sleeping with the products promising immense moisturization is recommended. Thus, the generous application of lotion on these areas helps slough off dead skin, softening the skin.
A gentle massage with lotion daily improves blood circulation, improves elasticity, and restores the strength of the skin's moisture barrier. Inadequacy in hydration may irritate your skin barrier and lead to fine lines and wrinkles in the long run. Thus, a body moisturizer is a must for a healthier, glowing skin barrier. We recommend you try body moisturizer with natural moisturizing agents and antioxidants to restore shine to the skin.
Who doesn't wish to feel relaxed after a long day? A body moisturizer does just that. From evoking a sense of relaxation to releasing stress, you can turn your head around from the satisfying results of a lotion. Sometimes a soothing fragrance also calms the mind, helping you sleep better. Besides, the gentle strokes of lotion relax the nerves, stimulate blood flow, and relieve tired muscles.
Choosing the best body lotion!
Ubtan Sunscreen Body Lotion
Delight in the goodness of Ubtan with our Ubtan Sunscreen Body Lotion. Designed to protect, nourish, and hydrate, this body moisturizer is extremely lightweight and super soothing to your skin. It is a rich concoction of Turmeric, Saffron, Red Raspberry, Carrot Seed Oil, and Shea Butter.
Blending in a non-greasy formulation protects your skin from sun damage, preventing tanning and sunburn. Besides, it helps reduce inflammation and revives the skin's radiance.
Aloe Vera Sunscreen Body Lotion
It is time to block those unkind UV rays with our thoughtfully blended Aloe Vera Sunscreen Body Lotion. It is formulated to banish the tan, soothe the dryness, and deliver long-lasting hydration. The enriching duo of Aloe Vera and Ashwagandha combat free radical damage and deeply moisturize the skin.
On the other hand, Carrot Extract and Red Raspberry Seed Oil repair sun damage and improve the skin's appearance.
Vitamin C Sunscreen Body Lotion
Lend some care and love to your body with our Vitamin C Sunscreen Body Lotion. With SPF 30 and toxin-free care, this body moisturizer defies dullness and tanning from your skin while rejuvenating the skin cells. It amalgamates the goodness of Vitamin C, Shea Butter, Honey, Shea Butter, Carrot Seed Oil, and Red Raspberry Seed Oil. These ingredients combine to safeguard the skin from sun damage, improve its overall appearance, and keep it soft and supple.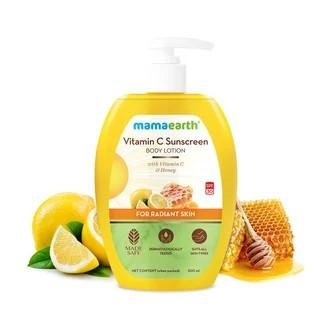 Moisturizing therapy for your baby from Mamaearth Baby Care Range!
Maintain your babies' velvety smooth skin with Mamaearth Moisturizing Daily Lotion! This baby body lotion comes enriched with the goodness of Shea Butter, Calendula Extract, Cocoa Butter, and Aloe Vera Extract. The natural formula of this baby body lotion works brilliantly on babies' delicate skin, aids in healing dry and inflamed skin, and safeguards their skin from external damage.
While Shea Butter and Calendula Extract relieve rashes and dryness, Cocoa Butter and Aloe Vera Extract keep their skin fresh and moisturized daily.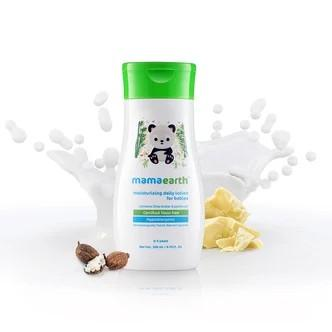 Summary
Like our facial skin, our overall skin matters too. It is a part of our skincare routine, which should never be ignored at any cost. Mamaearth offers a toxin-free, gentle, and effective range of body care products. More importantly, the SPF factor adds additional protection factors to this range. So, listen to your body care needs and choose a product that hydrates, soothes, and protects your overall skin.